The USB interface allows the stomp to be connected to a PC or Mac for fine tuning and configuration of each user configurable setting.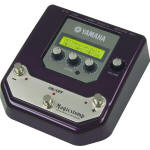 This ultra-flexible, ultra-configurable pedal packs a lot of guitar gizmos into one solid stomp box. Featuring 99 presets and 99 user configurable sounds delivered by a 24-bit A/D converter and a 32-bit DSP engine to deliver intense sonics. The built in tuner is handy and easy to use.
Available effects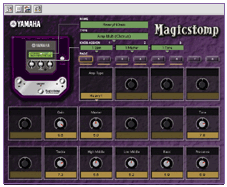 Distortion, Amp Modeling, Chorus, Flanger, Phaser, Vibe, Tremelo, Rotary, Compressor, TapeEcho, Delay, Reverb, Filter, Ring Modulator, Pitch Shift.
Amp Modeling
The stomp attempts to reproduce sounds from a variety of amplifiers such as a Marshall and Fender. The computer interface allows you to pick the style amp and speaker cabinet type.
The stomp also features a stereo output for multi-amp setups or recording.
Overall an excellent effects processor with so much crammed in to play with. We had some issue running it to certain amps where the output power was too high for the amp causing it to cut out. Also, the volume control is always active even with the effect channel off.
Sadly Yamaha discontinued the Magic Stomp..fortunately many can still be had in used form on eBay and other online sites.