iMic was the original USB audio adapter that enabled Mac and PC users to add stereo input and output to their USB computers that, otherwise, lacked the necessary hardware support.
iMic allows you to connect virtually any microphone or sound input device to your iBook, PowerBook, PowerMac or other Mac or PC systems with a USB port. iMic supports both mic and line level inputs via a selectable switch, as well as a variable level output for connecting speakers or headphones.

iMic shines as the essential tool for converting your old LPs and tapes into MP3s and CDs. Griffin's audio recording software Final Vinyl for Mac OS X (provided for free exclusively to iMic owners) makes recording old records and tapes super easy, with several advanced features such as waveform-based cue editing and built-in 10-band EQ. Final Vinyl can also equalize LPs without having to connect a turntable to a pre-amp.
iMic, now updated for modern hardware, provides the perfect solution for almost any audio need, including:
Podcasting
GarageBand
iMovie
Final Cut Pro
System requirements
Mac: OS X, USB port
PC: Win XP, USB port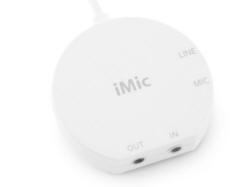 Specifications and Features
Audio input: 1/8″ (3.5mm) stereo line/mic-level minijack
Audio output: 1/8″ (3.5mm) stereo line-level minijack
Hardware control: toggle switch for mic/line setting
Height: 0.5 in.
Diameter: 2 in.
Weight: 2 oz.
Cable Length: 18″
SixStringZone.com Review
The biggest advantage of this little device is it's ability to cancel ground hum so commonly encountered with recording on computers, especially laptops.  Many computers today are not equipped with audio inputs, this presents a challenge for those trying to record in the digital era.  The iMic is inexpensive, very small, and effective at getting the job done.  Installation is easy on both Mac and PC based computers.
Our Ratings - Scale 1-5
Features 5
Quality  4
Value    5
Overall  4