The Crate FlexWave65 is a mid-sized combo amp utilizing Crate's now-legendary FlexWave™ Evolution 5 preamp and patented Sequential Cascading Gain™ technology to pump 65 watts of mind-boggling rich, articulate tone through a single 12″ speaker. Variable 3-channel operation lets you switch between clean, dirty and saturated channels with the included remote footswitch.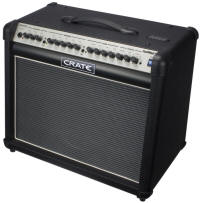 Don't pass out yet, because it includes a whopping 18 DSP effects to add separate delay, modulation and reverb to your sound.
Crate's legendary Channel Tracking™ technology automatically stores your effects settings for each channel and recalls the settings as you switch between channels using the footswitch we include—it's a dance that can only be described as "beautiful."
Dial in the perfect tone by tweaking the overtly musical onboard 3-band EQ, and for even more punishing leads, the Solo channel features Crate's proprietary Shape Control circuit.
Specifications
65 watts RMS
1 x 12″ speaker
3 channel operation
DSP with separate controls for effects, including delay, reverb
CD/MP3 input
Built-in tuner